Tidal.Cloud Launches TreeView Feature in LightMesh
Say Goodbye to Spreadsheets: Managing Complex Networks Just Got Easier
TreeView in LightMesh, Tidal.Cloud's IP Address Management (IPAM) solution, lets you easily drill-down into branches of subnets within larger parent networks. You can click to zoom in and out of IP address branches until you get to the subnet you need. No more scrolling for ages or tracking everything in complex spreadsheets.
We built TreeView into LightMesh, to directly address feedback from customers with large, fragmented legacy networks. So far, our earliest adopters are already delighted by how quickly they can restructure and organize their IP address spaces.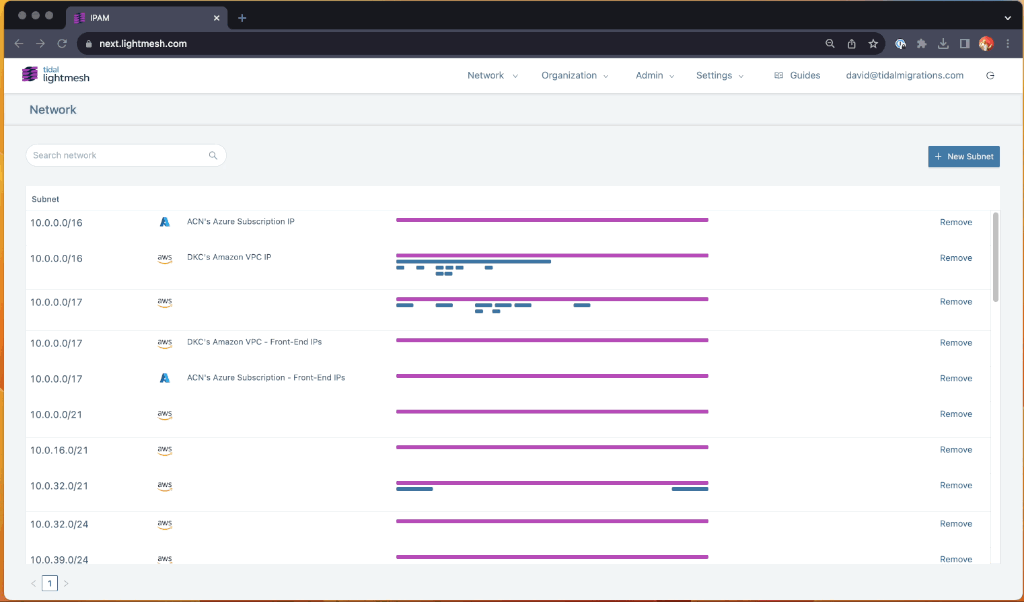 Swiftly organize and clean up cluttered IP address spaces that grew chaotically over time.
One of our customers, a Network Administrator Lead at a private non-profit, recently shared:
I inherited a tangled /16 subnet with hundreds of small /24 subnets - it was impossible to manage. With TreeView on LightMesh, I was able to restructure our entire network space in a few days.
The launch of TreeView builds on Tidal LightMesh's strengths as an intuitive, visual IP Address Management (IPAM) solution. Customers can combine the power of TreeView with other features like global search, spreadsheet uploads, and multiple API key management.
TreeView is available now to all Tidal LightMesh customers at no additional cost. Experience the new visualization capabilities yourself on Tidal LightMesh.