How to Implement FinOps Successfully - Episode 2
Introduction
In episode 1 of this series we gained an understanding of FinOps History and What FinOps is all about, and now you might be asking questions like "Why FinOps" or "What's next?" and "How can I get started on my FinOps transformation journey?" If so, read on, this blog is for you.
This post covers the following key areas:
Why you need FinOps
How culture change is required for effective FinOps
Building a centralized FinOps team to spearhead the required culture shift
1. Why is FinOps adoption important?
Whenever I have a conversation about cloud migration and why an organization wants to migrate to the cloud, cost savings comes up in the top 3 reasons. However, more often than not, cloud spend is still being overlooked until bills are out of control.
And I'm not surprised, since engineers can now subscribe for a service whenever they feel like it and oftentimes the last thing they have on their mind is cost - They want innovation and agility and when you are focusing only on this, it's very easy to overspend.
Consequently when this happens, businesses (panicking now) start putting a break on spend, slowing down innovation and potentially put the business at a competitive disadvantage. This is where FinOps comes in.
FinOps brings Finance, Tech and Business teams together, improving business efficiency and value by using cloud technologies in combination with a change in team culture and internal processes.
2. Cultural Change - Starting to work together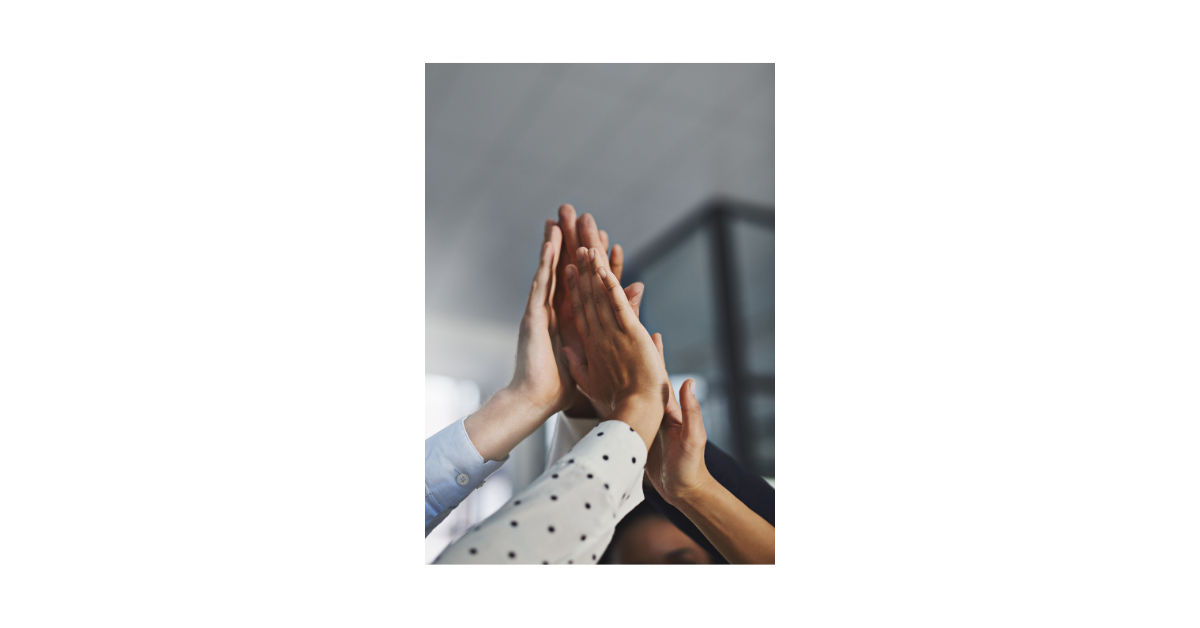 Historically Finance, Technology and Business teams would hardly ever need to interact with each other, however, in the cloud they will need to integrate and interact like never before.
Cloud costs now become everyone's responsibility and the entire organization needs to change from having only Finance managing costs, to a shared responsibility model.
This shift enables teams to operate faster, increase efficiency, optimize utilization and ultimately, reduce costs or re-invest in innovation.
A balance between speed, cost and quality!
3. Building a FinOps Team
It is unquestionable that everyone in the organization needs to play a role in the FinOps space, however organizations need to live and breathe the FinOps approach to cloud in order to understand its real value. Building a FinOps Practice will come down to the team of evangelists to promote and support the organization with the right tools, processes and values in order to be successful.
Centralized team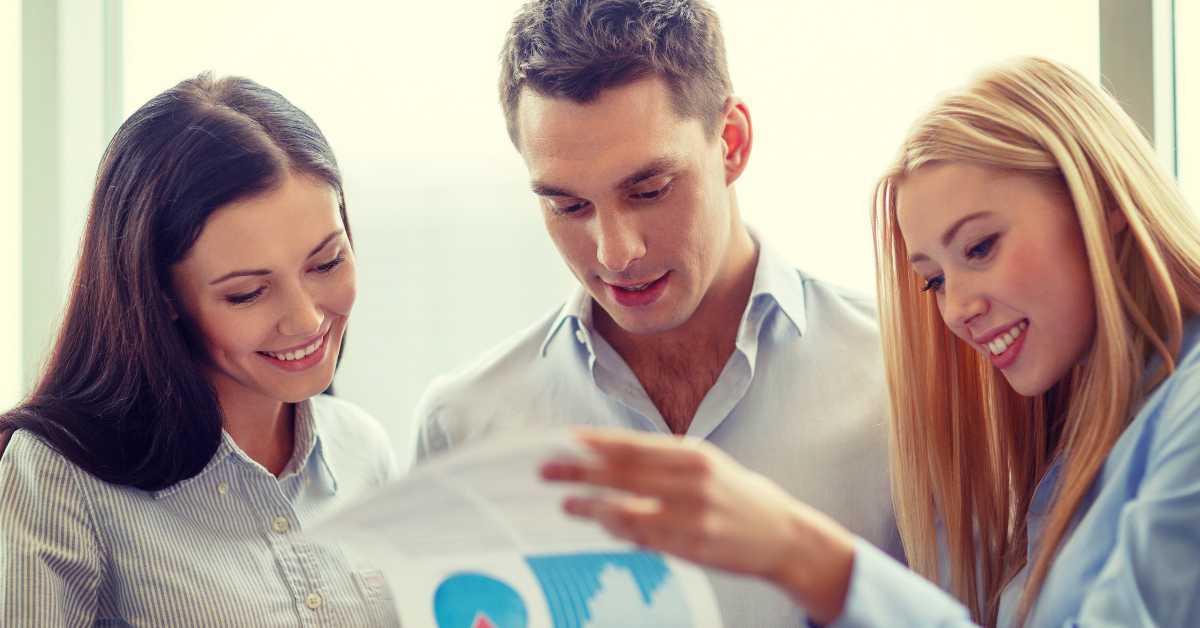 Even though everyone in the organization needs to play a role in the FinOps space, having a centralized team, not only reduces duplication of efforts, but also greatly benefits a culture shift within an organization.
When the central team shares organizational objectives of cost allocation, defines metrics, provides clear communication and feedback, they reassure teams that they are being measured and managed equally.
On the other hand, having individual teams implement their own processes brings a lot of disagreements between departments (biased decisions/hidden agenda). This not only creates doubts about the data provided, but also conflicts between teams.
A central FinOps team is unbiased and removes conflicts between these teams by supporting them and ensuring everyone is on the same page to achieve business goals.
It's important to note that upper-management also needs to be involved, they need to understand and support the practice to spread the message throughout the business successfully. In addition, they can also provide allocated time for staff to perform these additional duties. Only then will FinOps practitioners be trusted to share best practices on behalf of the business and your FinOps practice can succeed.
Team roles
The picture below demonstrates how a cross-functional team works together with the rest of the organization to expand cloud strategy and best practices to the rest of the business. Everyone at every level of an organization, as shown below, can play a different role in the FinOps practice, and combining those with the right tools and a cultural change, will ensure FinOps Success!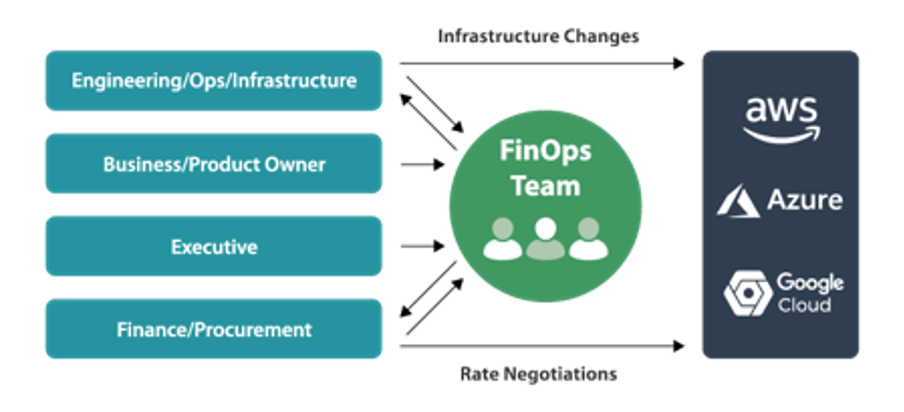 ---
The benefits of a diverse yet centralized FinOps team that includes Cloud Practitioners are:
Drive the FinOps mindset across the business by bridging the communication gaps between technical and business teams
Facilitate communication and utilise common language to remove conflicts between teams
Unbiased. The FinOps team is not in it to benefit themselves with hidden agendas, but to bring teams together and build trust
Better understanding and alignment with business goals
Operate faster: Remove the need for engineers and operations to negotiate rates and control discounts with cloud providers, so they can focus on their usage optimization.
Conclusion
My ultimate goal with this blog is to provide you with an overall understanding as to why FinOps is important and how you can get started. These few tips on how to shift the way your internal teams work together are based on experience, and will get you started in your Finops journey right away.
I know that everything here is easier said than done but remember: FinOps is ultimately a cultural shift and the earlier it starts, the sooner you an organization can achieve successful cloud management.
Shana Cunha, Tidal
PS: In the next episode of this series, I will talk about the first phase of the FinOps lifecycle: The Inform Phase. This phase is all about visibility and allocation. Stay tuned for Episode 3!
PPS: I'd love to hear from you on what techniques have worked for you in creating successful FinOps teams. Drop me a line at value@tidalcloud.com